Metsänpirtti 3*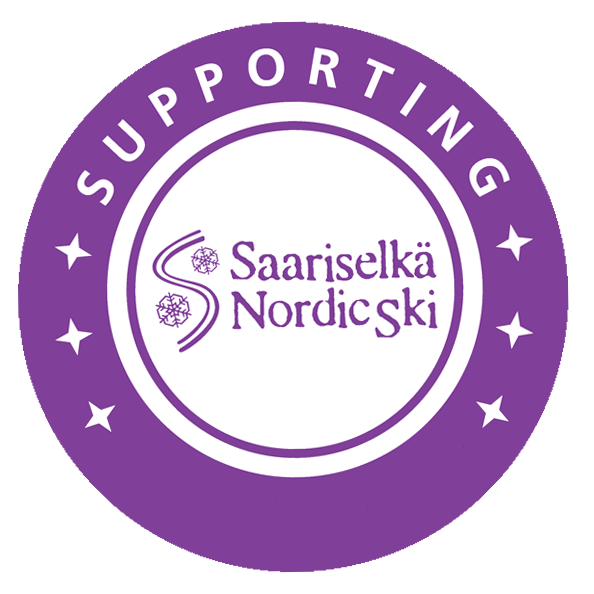 "Metsänpirtti-Metsäntupa" is a small row house in the center of Saariselkä. There are 4 apartments for 2 people and an apartment for 8 people.
All 5 apartments share a ski waxing room. Washing machine room is shared with 4 Metsänpirtti-apartments.
Metsänpirtti 3 description
Entrance to the Metsänpirtti 3 -apartment is on the right side (west side) of the house, when looking from the Raitopolku-road. Kitchen-living room, bedroom, sauna and shower/toilet. Size 30 m².
Sleeping arrangements:
• bedroom (sliding door): 2 single beds and above them 1 bed
• living room: sofa bed (120 cm wide)
Kitchen equipment
•
cutlery and cookware
• dishwasher
• refrigerator/freezer
• electric stove and oven
• microwave oven
• coffee maker
• water kettle
• toaster
• blender
Other equipment
• wi-fi
• smart-tv
• cd-player
• radio
• washing machine together with the apartments
• electric drying closet for clothes
• iron and ironing board
• hair dryer
• car electric heating point
• electric vehicle charging station
• ski maintenance room
• bike wash possibility
Price includes
In autumn and winter seasons
The price includes linen, towels, end-of-stay clean and wi-fi
In summertime
The price includes wi-fi.
Linen, towels and end-of-stay clean by order.

Please check included services from your invoice.

Good to know
• warm ski waxing room in the basement of the house, entrance from the east side of the house
• in the ski waxing room are private storage places for the skis and ski shoes - Please, use storage room for your skiing gear (do not walk inside the apartment with ski shoes)
• washing machine room is in the north end of the house (same side as Raitopolku-road)
• the water hose for bike wash is in the same room as washing machine
Distances
• Ski track approx. 80 m
• Ski slopes approx. 2 km
•
Saariselkä info and maps
Key service
The keys are picked up from the reception of Saariselkä Booking, address Honkapolku 2. When the reception is closed, please pick up the keys from the entrance hall of the reception using door code.
The keys must be returned to the reception of Saariselkä Booking by 12 p.m. (at noon) on the day of departure. If the reception is closed, please leave the keys to the locked, red mailbox on the outdoor wall.
Saariselkä Bookings reception
Read 16 reviews
(Average score: 3.81)
Asunto lähellä latuja ja palveluita
Vähän kulunut asunto,mutta kyllä kelpasi.Meitä oli 3,tämä on passeli kahdelle.
Lyhyt etäisyys ladulle, sekä kauppaan. Valaistus huono huoneistossa. Sopiva kahdelle henkilölle. Ihan siisti.
Mukava tila kahdelle, kaikki oleellinen oli tarjolla, ladut vieressä. Suksien huoltotila on erinomainen. Valaistus oli varsin niukka ja kuivauskaapin lämpö ei toiminut. Vaikutelma ja hinta/laatu-suhde sellainen, että ensi vuonna todennäköisesti yritetään varata uudelleen.
Sopiva koko kahdelle,siisti, rauhallinen
Majoitus oli odotusten mukainen,riittävästi kaikkea. Kiva loma ja upea ruska! Kehiteltävää olisi reittien osalta sikäli,että pyöräilijät käyttäisivät eri reittejä kuin kävelijät.Sähköpyörät ovat hiljaisia ja tulevat usein kovaa vauhtia (varsinkin alamäessä) ja jos niitä kävelijä joutuu koko ajan varomaan menee nautinto koko vaelluksesta...
Hyvä perustason majoitus. Yhdelle hyvin ainakin tilaa riitti.
Siisti ja kaikki tarvittava löytyi. Hyvä sijainti ja toimiva netti. Ainoa miinus oli se, että huoneistoa ei oikein saanut tuuletettua. Helteellä sisällä oli kuuma ja kuumuus haittasi varsinkin öisin. Yksi pieni ikkuna oli jonka sai auki, mutta kunnolla ilmaa ei tullut ulos hyttysverkon ja palkkien vuoksi. Ehkä voisi ostaa tuulettimen?
Sijainti todella hyvä. Varustus kohtalaisen hyvä. Puuttui mm. pieni hyvä veitsi. Eteisessä olisi hyvä olla kenkälusikka. Siivottiin itse, puuttui yleispesuainepullo, suihketta kyllä oli. Siivoukseen olisi ollut mikrokuituliinat tarpeen. Suurimpana puutteena huono ilmanvaihto, ei tuuletusikkunoita. Hyvin viihdyttiin pienissä tiloissa kaksistaan. Ahdasta tulisi, jos majoittujia enemmän.
Sopivankokoinen kahdelle. Varusteina oli kaikki mitä kukin matkaillessa majoittuessaan tarvitsee. Huoneisto oli siistitty huolellisesti, joten oli mukava asettua taloksi. Eikä tämä ollut ensimmäinen kerta tässä huoneistossa. Pieni kritiikinpoikanen turvallisuudesta: kiukaan voisi suojata paremmin, korkeammalla laudalla, verkolla tms.
Hyvä sijainti, kompakti paketti, jossa kaikki tarpeellinen myös keittiössä - tykättiin. Sauna kahdelle aika nafti, ainakin väsyneenä. Vaihdettiin sohvan ja pöytäryhmän paikkaa, ja lähtiessä takaisin. :)
Olimme viikon 10 Saariselällä.Hyvä majoite lähellä latuja ja palveluita.Äänieristys majoitteessa olematon ja se häiritsi jonkin verran.Majoitteen kalusteet aikansa eläneet ja vaativat päivitystä.Sohva hyvin huonossa kunnossa ja ei sovellu istumiseen eikä varavuoteeksi.Huoneistoon olisi hyvä hankkia edes yksi nojatuoli. Keittiössä rittävästi astioita ja kaappitilaa tarpeeksi. Lomaviikkomme osui hyvään aikaan pakkasen ja auringon helliessä pohjoista.Revontuletkin nähtiin.
Tehokkaat neliöt pienessä kämpässä, hyvä sijainti
Pirtti oli kiva ja siisti. Kaikki tarvittava löytyy. Äänieristys olematon: naapurin kuorsaus kuuluu seinien läpi. Sauna hyvin pieni mutta riittänee kahdelle.
Viihtyisä pieni asunto lähellä Saariselän palveluja. Sänky hyvä nukkua. Sauna pieni, mutta soveltuva yhdelle ja hyvät löylyt. Keittiö siisti, jossa kaikki tarvittava. Ainoa huomautus kylpyhuoneessa - wc-istuin aivan kiinni kuivauskaapissa, eli hieman ahdas. Mainio asumus yhdelle/kahdelle :)