Metsänpirtti 2*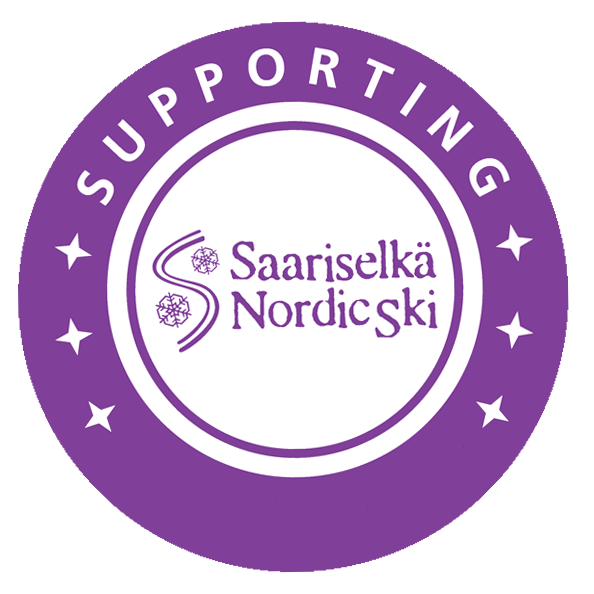 "Metsänpirtti-Metsäntupa" is a small row house in the center of Saariselkä. There are 4 apartments for 2 people and an apartment for 8 people.
All 5 apartments share a ski waxing room. Washing machine room is shared with 4 Metsänpirtti-apartments.
Metsänpirtti 2 description
Entrance to the Metsänpirtti 2 -apartment is on the left side (east side) of the house, when looking from the Raitopolku-road. Kitchen-living room, bedroom, sauna and shower/toilet. Size 30 m².
Sleeping arrangements:
• bedroom (sliding door): 2 single beds and above them 1 bed
• living room: sofa bed (120 cm wide)
Kitchen equipment
•
cutlery and cookware
• dishwasher
• refrigerator/freezer
• electric stove and oven
• microwave oven
• coffee maker
• water kettle
• toaster
• blender
Other equipment
• wi-fi
• smart-tv
• cd-player
• radio
• washing machine together with the apartments
• electric drying closet for clothes
• iron and ironing board
• hair dryer
• car electric heating point
• electric vehicle charging station
• ski maintenance room
• bike wash possibility
Price includes
In autumn and winter seasons
The price includes linen, towels, end-of-stay clean and wi-fi
In summertime
The price includes wi-fi.
Linen, towels and end-of-stay clean by order.

Please check included services from your invoice.

Good to know
• warm ski waxing room in the basement of the house, entrance from the east side of the house
• in the ski waxing room are private storage places for the skis and ski shoes - Please, use storage room for your skiing gear (do not walk inside the apartment with ski shoes)
• washing machine room is in the north end of the house (same side as Raitopolku-road)
• Metsänpirtti 2 and Metsäntupa can be combined by a door between apartments
• the water hose for bike wash is in the same room as washing machine
Distances
• Ski track approx. 80 m
• Ski slopes approx. 2 km
•
Saariselkä info and maps
Key service
The keys are picked up from the reception of Saariselkä Booking, address Honkapolku 2. When the reception is closed, please pick up the keys from the entrance hall of the reception using door code.
The keys must be returned to the reception of Saariselkä Booking by 12 p.m. (at noon) on the day of departure. If the reception is closed, please leave the keys to the locked, red mailbox on the outdoor wall.
Saariselkä Bookings reception
Read 12 reviews
(Average score: 3.83)
Metsänpirtti 2 soveltui hyvin kahden viikon hiihtoloman majoitutilaksi - huoneiston varustus riittävä. Keittiössä oli vähän pöytätilaa astioiden laskemista varten. Metsäntupa huoneiston ja Metsänpirtti 2 huoneiston eteisen välissä on ovi (ei tuplaovi), jonka llävitse naapurihuoneiston äänet kuuluvat.
Majoitus muuten hyvä mutta sängyt vois jo päivittää.
Hyvä sijainti ja toimivat tilat.
Siisti ja toimiva kaikki on mitä tervitsee. Hyvällä paikalla rauhallinen
Rauhallinen sijainti, yleisesti ottaen siisti majoitus kohde. Erityismaininta puhtaista tyynyistä ja peitoista. Suihkunurkkaus/kaappi oli pienellekkin ihmiselle ahdas.
Perussiisti kohde kivalla sijainnilla. Tämä oli riittävän kokoinen majapaikka meidän perheemme (2+1) tarpeisiin. Mennessä törmäsimme pieneen ongelmakohtaan, joka korjattiin välittömästi (alle 30 minuuttia ilmoituksesta) ja haluankin kiittää tätäkin kautta huoltoa hyvästä palvelusta.
Hinta-laatu -suhde todella kohdallaan (kesä)! Kompakti, viihtyisä, metsäinen,rauhallinen, vaelluspolkujen ja toisaalta palveluiden vieressä.
Wc tilassa sokeritoukkia. Paistinpannu kannattaisi uusia. Tv:ssä tekstitys hakemisessa,kanavilla 1,2 ja 3
Hyvä sijainti. Kaikki tarvittava löytyi. Suosittelen, sopiva kahdelle hengelle. Oli siisti.
Kahdelle henkilölle riittävät ja toimivat tilat. Vain kuivauskaappi oli ongelmallinen kun se ei pysynyt paikallaan Hyvät suksien huoltotilat. Sijaiinti hyvä lähellä latuja.
Hyvä sijainti viikon lomailuun riittävän hyvä Hinta laatusuhde ok
Mukava ja toimiva asunto, jossa 10 päivän etätyö sujui hyvin. Nopea nettiyhteys! Yhdelle hengelle oikein hyvä, kahdelle aikuiselle vähän pieni, ainakin työtä ajatellen. Varustus riittävä. Erinomainen sijainti, palvelut ja ladut lähellä.