Summer guests and end-of-stay clean
Summer guests and services in summertime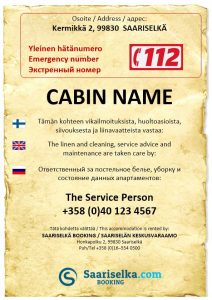 The summer price includes just accommodation. No linen, towels, end-of-stay clean nor wood for the fireplace.
In the cabin you will find basic kitchen equipment, dishes, kitchenware, beddings (not linen unless agreed), cleaning equipment and detergents as well as toilet paper and trash bags. If something is missing please contact the cabin service to refill the missing things.
The holiday lodgings are checked after the departure. In case the apartment is not in the expected condition after the end of stay and has to be cleaned before the next guests, the previous guest will be charged min. 50 €/hour for cleaning.
In summertime service advice and maintenance are taken care by the care taker / service person, whose phone can be found on the first page of the cabin book.
Summer guests & Linen and towels
The guests can use their own bed linen and towels.
Optionally the guests can rent linen and towels from Saariselkä Booking reception for an extra price:
16 € / set (bed linen, big towel, small towel)
8 € / linen set
8 € / towels set
If you have rented the linen, please return them to the Saariselkä Booking reception when checking out.
Address: Honkapolku 2, tel. +358 (0)16 554 0500.
Summer guests & End-of-stay clean
Guests can do the end-of-stay clean by themselves or oder it from Saariselkä Booking.
End-of-stay clean price varies according to cabin/apartment's size. Check the price from Saariselkä Booking.
If the guests chooses to do the end-of-stay clean themself, the following things should be undertaken:
take the litter to the garbage can outside
vacuum-clean the floors
wipe the floors with a moist, not wet, cloth
wash the dishes and empty the dishwasher
remove stains
clean the toilet(s) and wash the basin(s)
put the furniture and other things where they were on arrival
remove ashes from the furnace (if used)
make sure that the sauna oven is switched off
pluck off the coffee-maker and the TV
add firewood in the basket for the next client (if used and was prepared on your arrival)
take care of the cleanliness of the yard (litter, bottle caps, cigarette butts, dogs' leavings)
turne off all the lights