Important details to arriving guests
Guest info
Guest info is full of useful information when you are arriving to Saariselkä.
Passanger Card
To make your check-in easier, you may fill in the passenger card beforehand and return it when picking up the keys.
Arrival – Check-in
Saariselkä Booking sends information for picking up the keys / check-in to each guest with the confirmation of the booking. This information you can also find at the description page of your accommodation. In most cases the check-in is at the Saariselkä Booking reception. Saariselkä Booking location and opening hours
To make your check-in easier, you can fill in the Passanger Card beforehand and return it latest when picking up the keys. The Form is on the top of the page. 
Check-in is from 4 pm (16:00) on the day of arrival. It is possible to get the keys earlier if the cabin / apartment is cleaned after the previous guests and ready for the check-in. Guests will recieve 2 keys (regardless of the number of the guests) and will be provided with a map to the destination.
Staying at the Accommodation and the Service Person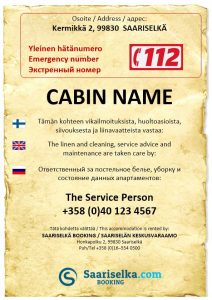 We trust that you will treat the property as your own.Every cottage and apartment has the service person, whom you can contact at any time if you have any questions or notice concerning the equipment and/or condition of your accommodation.
The service person's phone number can be found from the first page of the Cabin Book. Please contact the service immediately, so that any problem can be solved right away. Complaints made later will not be taken into account. Booking terms
At the cabin you will find:
Dishwashing and general detergents, trash bags, toilet paper and cleaning equipment.
Bedding, such as blankets and pillows.
Basic kitchen equipment, dishes, kitchenware.
At the cabin you won't find:
Soap, shampoo and/or canditioner, kitchen paper, sauna bench pads (if not left by the previuos guests or confirmed otherwise in your booking confirmation).
Spices (incl. salt and pepper) or other groceries (if not left by the previuos guests).
Check your invoice to find what is included in the rental price, usually those are linen, towels, end-of-stay clean and wood for the fireplace. If something is missing, please do cotact immediatly the cabin service person.
Safety tips, which may help to avoid accidents!
It is common in Finland that bathroom has tiled floor and no shower mat. Floor might be slippery in the sauna and in the shower room.
Entry hall might get very slippery if snow is not cleaned off your boots properly.
It is safe to drink water from the tap. However, bottled water can bought from the supermarket.
Useful information during your stay at the resort
Public emergency number is 112
Nearest public health center (small hospital) is in Ivalo, 30 km to the north from Saariselkä. Nurse on duty tel. +358(0)40 770 9187.
Private health center MedInari is in Saariselkä (only during high season). Tel. +358 (0)207 205 830. Limited opening hours.
Pharmacy is in Ivalo (30 km). Basic medicines can be bought in the Cafe of Supermarket Kuukkeli, open daily at 9:00-21:00 ("medicine-locker" ).
Saariselkä Taxi tel. +358(0)100 84644
Ivalo Taxi tel. +358(0)100 87 888
Electric car charging in Saariselkä
Electric cars can be charged only at official charging points at Hotels Holiday Club and Riekonlinna. Please contact the reception of the hotels:
Saariselkä Booking on-call service
+358 40 521 2571. We will be glad to help you on phone in case of emergency even outside our opening hours (no sales services). But in case guests will need the person on duty to come to the reception or accommodation for a reason brought on by a lodger (i.e. key lost or other reason), an hourly compensation of 50 €/h will be charged, on Sundays and holidays 100 €/h. The fee must be paid immediately in cash.
Departure – Check-out
Before checking out
If any furniture etc. was moved inside the apartment, please return it on the place where it was on arrival.
Close all windows and doors. Switch off the lights.
The cleaner would appreciate if you take the garbage to the can outside and put the dishwasher on. There are recycling points in the crossroads of Saariseläntie and Jokostie. There you'll find trash bins for paper, glass, metal and assorted wastes.
Check-out is at noon (12:00) on the day of departure. The guest should check-out and return the keys latest at 12:00 to the Saariselkä Booking's reception or into the red mail box on the outside wall of the reception. If the key is lost, we will charge the real expenses (min. 400 €). Luggage room is at the reception of Saariselkä Booking. Reception is open
Average weather conditions
The following description of average prevailing weather conditions can change yearly and can vary regionally and locally. Month: Average temp. in °C day (night) / Average day light in hours / Average snow depth in cm
January: -9 (-18) / 4 h / 40 -70 cm
February: -8 (-17) / 6 h / 50-80 cm
March: -3 (-13) / 10 h / 60-100 cm
April: +3 (-7) / 14 h / 50-80 cm
May: +9 (+0) / 18 h / 0-20 cm
June: +15 (+6) / 24 h / 0 cm
July: +19 (+10) / 24 h / 0 cm
August: +16 (+7) / 20 h / 0 cm
September: +10 (+3) / 15 h / 0 cm
October: +3 (-3) / 11 h / 0 cm
November: -4 (-11) / 7 h / 0-30 cm
December: -7 (-15) / 4 h / 10-40 cm
Winter clothing in safari
In winter time the temperature often drops 20 degrees Celsius below zero and even less. Be sure to wear warm and dry clothes. During very cold weather your skin will be better protected without creams (those which contain water) and if you avoid washing your face before going outside. Winter clothing what clients get from safari company: overall, mittens, balaclava, hat, socks and boots. What clients should bring with them is: 1. layer: warm thermal long sleeve and long leg underwear and socks (merino wool is best next to your skin) 2. layer: sweater (wool or fleece) and sweatpants 3. layer: fleece jacket It's best to have several layers and avoid cotton.